After what feels like a lifetime of anticipation, from the initial rumours to launch day; it's here, it's landed – SLinks Physique Male Mesh Body!
So, what is it like? I could tell you in one word, but well, then you'd skip the rest of this post and I'm not going to do that!
Here's the thing, it's different and that's the best thing going for this iteration of the Male mesh body, after the first influx of huge bodies that had their own gravitational pull on all objects ranging from poor defenceless pets, people and plant life to seats, tables and even whole houses, SLink takes a stand and gives the men, at least in the circles I travel in what they were screaming for, a more realistic, achievable, slim toned look. Much to the delight of all life in SL, no longer are they forced to orbit these huge planet like bodies – the male body and all matter can finally coexist peacefully!
Now, let's get in to the body itself rather than my thoughts on mesh bodies overall.
The first thing you notice, aside from the excitement of having an affordable and pleasantly surprising (L$ 1,250) body is the sheer volume of content with it after unpacking. Alphas for your default head with the option to mix and match your system hands and feet in to it – 2 Slink shapes included as well as 6 base skins, 6 neck blender tats for each skin and RGB hud allowing you to match skin tone for those skins that don't have appliers just yet or your favourite older skin that's unlikely to gain an applier. You also get 2 versions of the utilities HUD which is where all your Alpha slices and layer options are, a space saving small one and a larger one for people who are afflicted with Mole vision like myself, already sounding like a lot?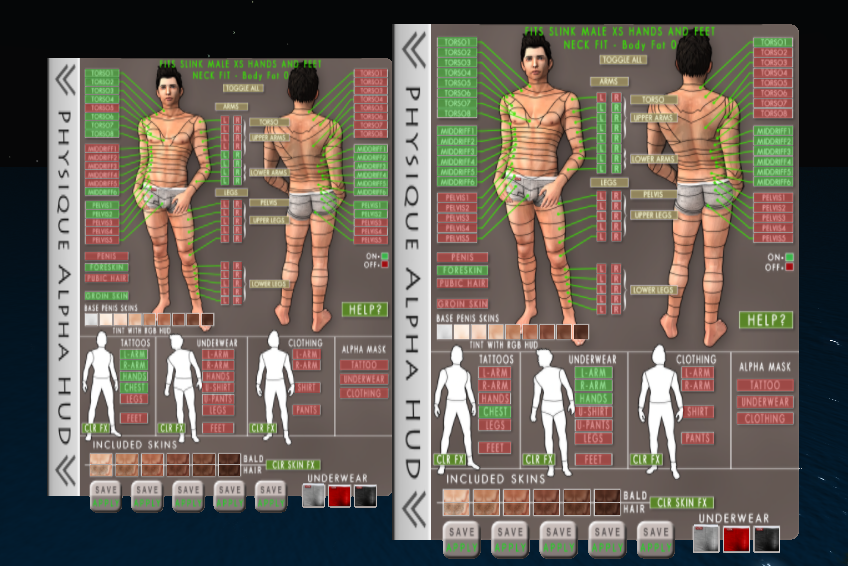 Well, we're almost done – you're also getting stovepipe jeans, a tank top and boxer shorts. We also get a lovely instructional note from Siddean Munro explaining everything we need to know, such as; if you have SLink hands and feet, which are not included with the body, you're going to need to go to the store inworld and get them redelivered for the update versions.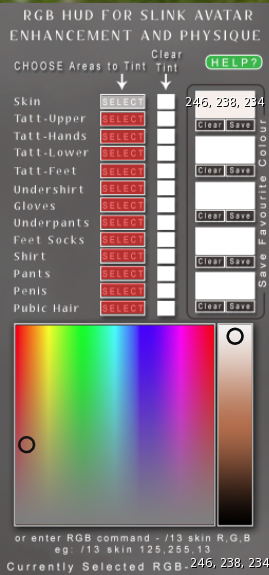 There, we've covered what you're getting for those 1,250 lindens! Let's get a little technical from here, as I mentioned, the SLink hands and feet aren't included but even if you go the whole nine yards and get the body, hands & feet, you still won't be paying what you would to others for their bodies. The biggest news to come with this body which is great not just for us men, but the ladies with the female Physique body is the inclusion of Omega applier compatibility! So, ladies, keep an eye for it coming to you fairly soon. Now, in the note from Siddean, we're told that the ideal body fat setting for your new body is 0-5, so if you're going to be adding bulk to your new slimline frame, do so via the thickness, torso and leg muscle sliders.
Now, on to the best part – what do we think?
Well, it's a beautiful body, you can just tell it's been a labour of love for Siddean, agonizingly detailed nuances and the sheer volume of options in the HUD for alpha slices and layers, shows she put a lot of thought in how best to make the layout simple, easy to learn and still offer a customizable body to use, as we, the consumers see fit.
It isn't without it's issues of course, no mesh body is, the alpha slices are great, not perfect, you'll still sometimes have a small fight trying to get everything hidden the way you'd like and sometimes, it's just not quite possible. There aren't a lot of appliers from creators ready to go at launch either, but that isn't a SLink issue – 7 deadly skins however, was right there, waiting, raring to grab the influx of men who wanted to take advantage of compatibility and hopefully that shows the rewards to other creators of supporting innovative new creations from launch in the future.
I'm really trying to point out some issues with this body and racking my brain to think of any others but, there just aren't. So it's my opinion, that you go get a demo and see for yourself, there is no better way to spend 1,250 lindens on the grid in the avatar improvement business.
Male Mesh Body ~ Slink
7Deadly S{K}ins ~ Damien ~Caramel box 1